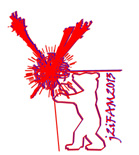 The Symposium of Young Researchers on Atomic and Molecular Physics was created to allow graduate students and postdocs working in Spain to share their knowledge and discuss their recent research. The first edition took place in Madrid, in December 2008 and was organized by Departamento de Física Atómica, Molecular y de Agregados of Instituto de Física Fundamental (CSIC). The second edition of the meeting was held in January 2010 at Universitat de Barcelona. The third edition took place in February 2011 at Santiago de Compostela. The number of participants in the first edition was 18, it increased to 41 in the second edition, it was 31 in the third and 25 in the fourth. The current edition will take place at the Faculty Chemistry of Madrid and it is organized by the Department of Physical Chemistry University Complutense of Madrid. Following the structure of the previous meetings, symposium consists of short talks (20 minutes + 5 minutes for questions) and/or poster presentations in either english or spanish in which every participant will expose his/her work.
Conference topics
Physics of Aggregates
Reaction Dynamics
Quantum Chemistry
Surface Physics
Atomic and Molecular Collisions
Ultracold Atoms and Molecules
Nanomaterial Science
Spectroscopy and Excited States
Quantum Information

Conference fee
In principle, there is no registration fee. However we may ask you for a small amount if needed.